Truecaller is a world-famous caller- ID service. All the information needs to operate this service is obtained by crowdsource procedure. Here, All the contacts stored in your phone will be uploaded to the databases in their servers after you downloaded and installed Truecaller app on your mobile phone. Therefore, even though you are not a Truecaller app user, your number and name will be uploaded to their databases via another participator of the Truecaller app. Basically, the below details about you will be transmitted into Truecaller servers.
Your name
Telephone number
Email Address
May be your location
IMSI number (International Mobile Subscriber Identity Number)
The most important thing is; this can happen intentionally or unintentionally. Hence, if you are a person who highly concentrates on your privacy and security, this procedure of the Truecaller app can be identified as one situation of privacy breakdown.
Spammers, scammers, cold callers, and telemarketers are identifiable true to the Truecaller app and it has an option to block spam calls. But this option is not free and you have to pay for you and other contacts in your mobile contact list.
To avoid these kinds of privacy leakages, you can remove your details from their servers by following the below steps.
1st Step: Deactivate the Truecaller account
Note: Currently, if you don't have a Truecaller account, you can skip this step and directly move to the second step.
First of all, go to the setting in the Truecaller app.
You should select the 'Privacy Center' option through the settings menu and choose the deactivate option and confirm it.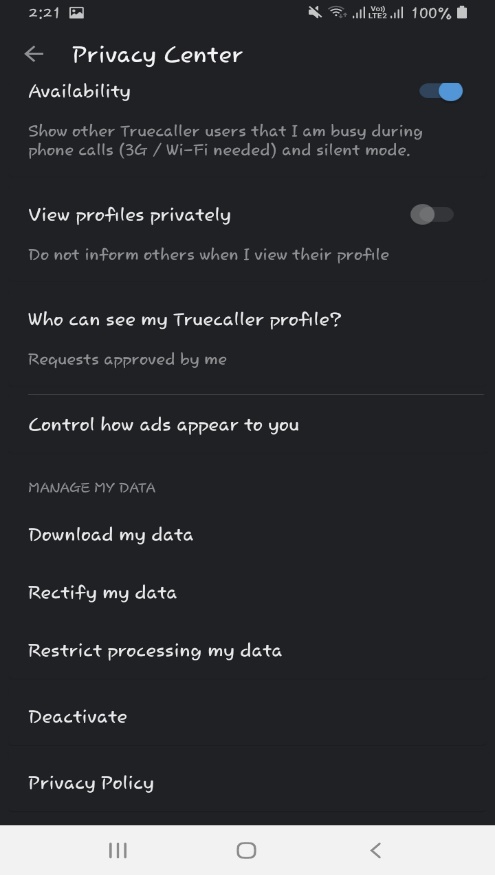 Supposing that you are using a device that controls from IOS operating system, go to the setting by clicking on your profile avatar and follow the above steps to deactivate your account.
2nd Step: Remove your number from the Truecaller database
Here, you should refer to the 'Truecaller Unlist Page' to remove your number. It asks for your mobile number along with the country code. Then you have to enter those details, click on the captcha and press the 'Unlist Phone Number' Button to proceed.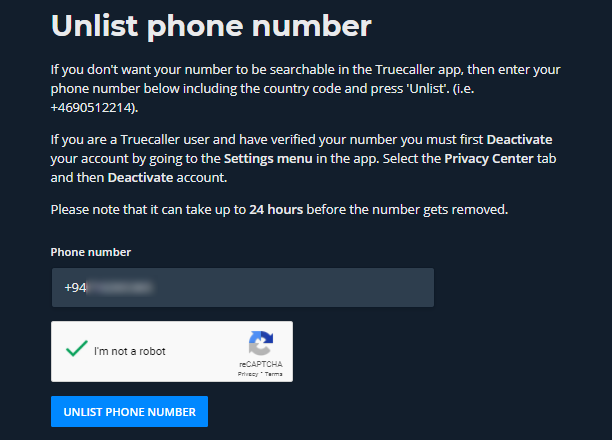 After those steps, it will pop up the message to get your confirmation for your number-removing process from the Truecaller database. Then click on the 'UNLIST' button to confirm it. The Truecaller team informed you that it will normally take about 24 hours to complete your request.
You can check whether your number is still in the Truecaller database or not by searching your number through the Truecaller app after the second or third date from your request. But, most of the time the number will appear as before, because of the cache data. Hence, clear the cache memory of the app by phone settings à Apps à Truecaller.
Advantages
Helps to find unknown numbers and their details.
Helps in checking and controlling spam in respect of both calls and messages.
It will reveal the identity of private numbers.
It helps in eliminating robocalls.
Supports to maintain a record on who is viewing your number using 'Who viewed my profile' functionality.
Disadvantages
Mainly, it will be a threat to your privacy and security.
At least you must have an in-use 3G connection to see who is calling you.
The app does not work properly in all areas.
There is a possibility to hack your contact details and other details connected with your number for hackers.
---